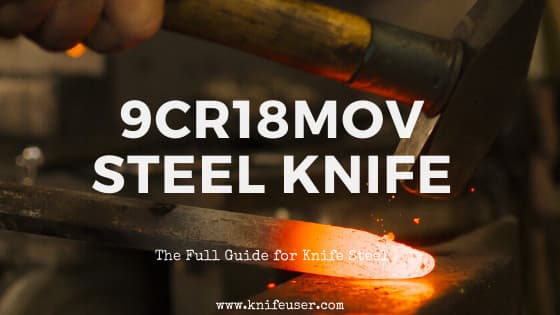 If you were shopping for some knives, you probably did notice some Damascus knives and mid-range EDC knives made with 9Cr18MoV Steel. I was in this position, and it got my attention, so I decided to make a 9Cr18MoV Steel Review.
So, if you're still interested in 9Cr18MoV Steel, I have some good news for you, I did some research about it, and I answered some common questions (like "What is it?" "What is its chemical composition?" "What is its hardness?" "How hard is it?" "Is it good or not?" and other questions) So let's dive in!
9Cr18MoV is a Chinese high-end Stainless Steel high in Chromium and mid-high in carbon, for great corrosion resistance, it's mainly used for in corrosion resistance demanding tools, like stainless steel blades/knives, surgical blades, cutlery.
As you can see, the chemical composition of the 9Cr18MoV is a mixture of high Chromium, carbon, and Molybdenum, which results in high corrosion resistance and hardness.
The maximum Rockwell Hardness of 9cr18MoV is 58-60 HRC.
If you don't understand the terms "Rockwell Hardness" or "HRC" read the following article, it has some great explanations that you might need.
9cr18MoV steel properties
According to the chemical composition and the HRC of the steel, the 9cr18MoV Steel has the following features:
9cr18MoV Edge Retention: 9cr18MoV has a high level of Chromium and Carbon (close to 1% of carbon) and maximum hardness of 60HRC, which makes it hard with a great Edge Retention.
9cr18MoV Corrosion Resistance: With 18% of Chromium 9cr18MoV offers great corrosion resistance.
9cr18MoV Wear Resistance: Great wear resistance, thanks to the mixture of Carbon, Chromium, and a little bit of Vanadium (0.12%).
9cr18MoV Sharpness: The rule says the harder the steel, the harder to sharpen it, 9cr18Mov has a decent hardness, therefore sharpening it won't be an easy task.
9cr18MoV Toughness: in general, steel can't offer to have good hardness, corrosion resistance, and toughness at the same time. The 9cr18MoV offers great hardness and corrosion resistance and a lower toughness ( a decent one it can handle low-mid impact).
9cr18MoV steel equivalent
The closest steel to our 9cr18MoV would be the 440C Steel. They have a very close chemical composition, both offer great corrosion resistance and good edge retention, they both fall in the same price range, and they're both used in low/mid-entry knives (20-60 USD knives).
Is 9cr18MoV steel good for Knives?
In general, Yes its good for knives, but it depends on your usage, as we mentioned before, 9cr18MoV has a great corrosion resistance and good edge retention with a decent toughness so that it will be good for EDC knives, kitchen knives, but if you're looking for a very tough knife for hunting or camping, and your knife might go trough hell of beating, I wouldn't recommend it.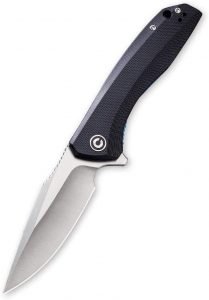 The Backlash from Civivi is a liner lock folding knife that comes with a 3.5″ 9Cr18MoV Stain finish blade, what I love about this knife, is the combination of ergonomic and design that enhance the low-end steel, a knife with low-end steel wouldn't be interesting, but if you add a great G10 handle to it, a strong liner lock, ball bearings system for effortless opening and flipping and finally a beautiful design with an Index finger choil and a thumb ramp, you just made yourself a great quality knife, and that's what Civivi did to the Baklash, the knife is efficient, strong, resistant and easy to carry for a reasonable price, give it a try you won't regret it.
In general, I find the 9Cr18MoV very great and affordable steel, especially for kitchen knives, many Damascus knives are made from it, it offers great corrosion resistance, and it holds an edge pretty good, it's like owning a premium kitchen knife for a low/mid-range price (Great trade!), let's not forget that it can be great for EDC knives.
After reviewing this steel, I noticed that it's not quite famous as the 8Cr13MoV, even while being a better performer, WHY? (a question I'd like to hear its answer), So if you have another opinion about the 9Cr18MoV steel, feel free to leave a comment below, I'll gladly answer/discuss knives with you.