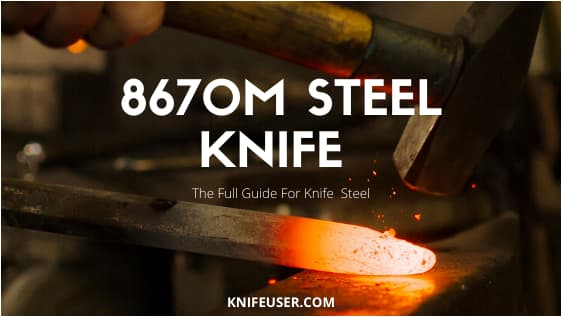 Lately, I did bump into a custom made knife, it was ùade from the high carbon steel 8670M, and I was wondering, what is this steel? so I decided to do some researches and tried to answers some common question; how hard it is? Is it good for knives? Whats are its properties and chemical composition?
If you end up having the same question as me, well I have some good news for you, I did group all the answers I got on this article, so if you're still interested keep reading and thank me later if it brings any sort of help.
8670M is high carbon steel that can be considered as low alloy steel, it has a mixture of Carbon, Nickel, and Manganese which gives the steel a good amount of hardness and toughness, it's usually used to make circulars and bandsaws, and in some rare cases knives.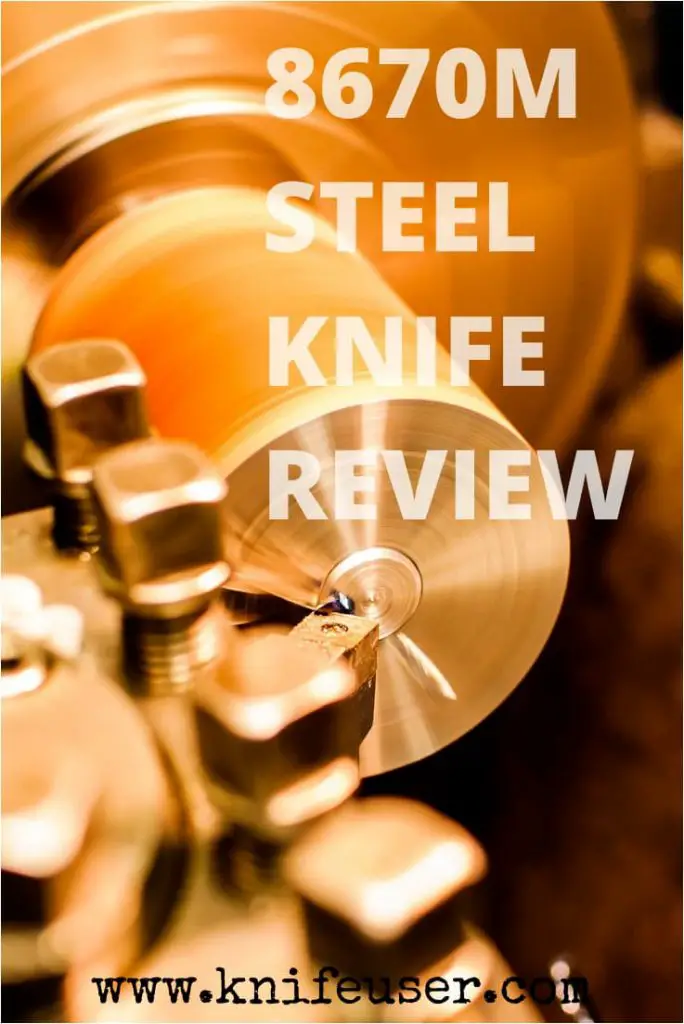 8670M Chemical Composition
As you can see the 8670M is a mixture that offers hardness and wear-resistance and strength, but comes with lower corrosion resistance.
8670M hardness (Rockwell hardness)
According to the chemical composition and the HRC of the steel, the 8670M Steel has the following features:
8670M Edge Retention: with the mixture of Carbon and Manganese the steel offers great hardness and keeps good edge retention.
8670M Corrosion Resistance: Not very great for corrosion resistance with only 0.5% of chromium.
8670M Wear Resistance: With 0.75% carbon, this steel offers great wear resistance.
8670M Sharpness: The rule says the harder the steel, the harder to sharpen it, the 8670M  is a hard steel that wouldn't be so easy to sharp.
8670M Toughness: Great toughness thanks to the mixture of Carbon, Chromium, and Manganese, and Nickel.
The closest steel to this alloy steel would be the A2 Alloy Steel they both offer the same level of toughness, hardness, and edge retention, and they're both low in corrosion resistance, but if you had to choose between the two I recommend the A2 Steel.
Is 8670M steel good for Knives?
By now, I think the answer is obvious, but I'll say it, it's YES, you can use it for your knife making or even buy a knife made out of 8670M Steel, but let me remind you that it won't be useful for all fields, it has low corrosion resistance, so avoid using it for a wet environment, in the kitchen for example, or while fishing or hunting, but if you need just hardness and toughness, the 8670M is a good choice that offers good edge retention, so I would recommend it but don't forget to keep it dry and clean.
The 8670M isn't a very know steel and it's not very used in the knife industry, you can classify it as an "old steel", compared to the new-gen steels that don't follow the traditional rule If it's hard it will rust, but still, you can have some joy with an 8670M steel especially if you're a knife maker, even more, a survival or camper that need a hard knife that can stand the beating.