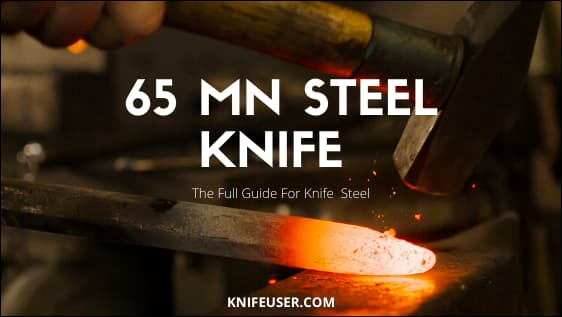 If you ever bought a machete or a knife with a 65MN high carbon steel, I'm sure you would be wondering, what is this steel? Is it good for my knife? how hard is it? what are its chemical compositions? And other questions…
Well I had the same experience and decided to make some researches, and of course, I end up with some good piece of information that I will share with you in this blog post, so if you're still interested in the 65 MN STEEL, you're in the right place!
65 Mn spring Steel is a low alloy carbon steel, it's known for making knives and machete knives, small-section flat springs, round springs, clockwork. Being carbon steel makes it hard steel but comes with lower corrosion resistance level.
As you can see, the 65 Mn steel has a mixture of Carbon, Chromium, and Manganese, which makes it a spring alloy.
How hard is 65 MN steel? – 65 MN steel hardness
With a hardening capability of 28-34 HRC, 65 Mn is hard steel.
If you wish to know more about the meaning of "HRC" or "Rockwell hardness" read this blog post.
According to the chemical composition and the HRC of the steel, the 65 MN Steel has the following features:
65 MN Edge Retention: With a maximum hardness of 34HRC, the steel can offer a good hardness, therefore good edge retention.
65 MN Corrosion Resistance: Not very great for corrosion resistance with only 0.2% of chromium.
65 MN Wear Resistance: With 0.65% carbon, this steel offers a good wear resistance.
65 MN Sharpness: The rule says the harder the steel, the harder to sharpen it, the 65MN is a hard steel that wouldn't be so easy to sharp.
65 MN Toughness: Great toughness thanks to the mixture of Carbon, Chromium, and Manganese.
The Closest steel to the 65MN would be the 5160 they're both a mixture of Carbon, Manganese, and Chromium, they offer good hardness and good strength, and they both fall in the same price range.
Is 65 MN steel good for Knives?
The answer is Yes, the 65MN steel would be great for knives, a 65Mn knife is a hard and tough knife, would be a great choice for batoning, EDC, but it would be a bad choice if you attend to use in a wet environment, due to its low corrosion resistance.
So If you're a hunter, a fisherman, or a chef, I wouldn't recommend a 65Mn steel knife.
Best 65 MN Knives : Kershaw Camp 14 (1076) Review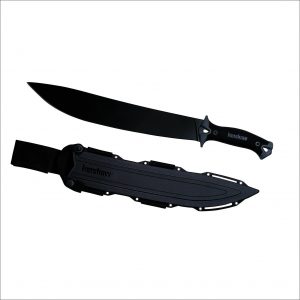 The Spring Steel Machete Knife from Kershaw is a great choice if you love Machete knives, it's 14" blade made from the 65Mn with a black powder coat, it's a very hard knife great for hunters, it's hard enough to cut through bushes, vines, trails, compost. An excellent choice for hunters, landscapers, farmers, and survivalists.
It comes with a molded sheath for protection.
| | 65Mn | 1095 |
| --- | --- | --- |
| EDGE RETENTION | 2/10 | 3/10 |
| EASE OF SHARPNESS | 9/10 | 7/10 |
| CORROSION RESISTANCE | 3/10 | 3/10 |
| TOUGHNESS | 8/10 | 8/10 |
As you can see the 1095 Steel is very close to the 65mn steel in terms of toughness, corrosion resistance, edge retention and they're both easy to sharpen
This conclusion is for knife users, If you're looking for hard and tough steel for a low price for your knife, the 65 Mn it's a great choice, you can assure that your knife will do the job,  especially for big knives, but for those who wish to use their knife in a wet condition, I wouldn't recommend this steel for its low corrosion resistance (unless if you're ready to take care of your knife after every usage making sure to keep dry and clean).