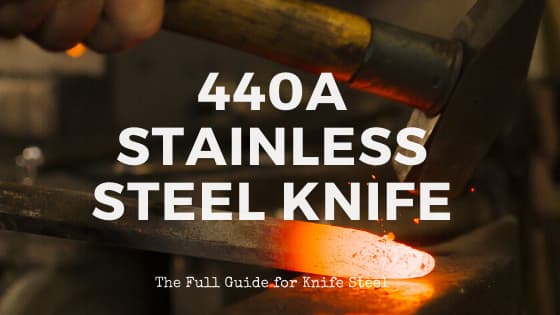 The 440 series stainless steel is a famous steel series and the knife industry. Today we're going to review the 440a stainless steel, so if you are wondering, what is the 440a steel? Who made it? What is its chemical composition, its properties? You are in the right place.
Before you start reading, I m a knife user who loves to read and search about knives. I gather all the Infos about a specific knife or steel in one place, if you find my blog post incomplete or incorrect, please leave a word it in the comments, for better content!
What is the 440a stainless Steel?
It's a high carbon martensitic stainless steel, used for knives, blades, cutting tools, and surgical tools. It has great corrosion resistance and wear resistance, its widespread in the knife industry due to its excellent combination of hardness and corrosion resistance.
440a Steel Chemical Composition
As you can notice, it has 18% of chromium, which means the 440a is stainless steel, is made for corrosion resistance, and the presence of carbon creates a great plus in hardness.
What is the hardness(HRC) of 440a stainless steel
What are the 440a Stainless steel properties
Edge Retention: with a maximum HRC of 58, it's a hard knife with decent Edge retention.
Corrosion Resistance: 440a has excellent corrosion resistance due to the high presence of chromium in it. 18 % is quite high compared to other steel, and this is why it may be the best stainless steel for corrosion resistance.
Wear Resistance: the 0.75% carbon grants the 440a stainless steel a good wear resistance but not the best, still it is high carbon stainless steel, but don't use it in an extremely damaging way expecting to resist it.
Sharpness: Despite the 440a being robust and hard stainless steel, it's still easy to sharpen and grind (if you're a grinder machine user).
Machinability: like all the 440 series the 440a is great for machinability, (I m not an expert in this but by searching on the steel industry, they all use the 440a in machinability).
Toughness: Due to Chromium and Nickel, 440a stainless steel has a decent toughness, it's not very tough steel, but it's just fine for low-end steel.
Is 440a stainless steel Good for knives?
The answer should be evident by now, and YES, it's suitable for knives, but not the best, it has an excellent corrosion resistance, which is great for kitchen knives and diving knives and a high hardness with a 58hrc, in the same time its cheap and affordable.
But at the same time is not the perfect blade for a hunter, it has lower wear resistance and edge retention compared to the steels on the market, but it doesn't mean it's lousy steel for your knife.
1. PUMA Sergeant Pocket Folding Knife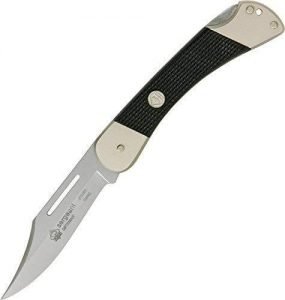 A beautiful pocket knife from PUMA, with a clip, point hollow ground style, a 3.1″ blade and 1/8″ blade thickness, this is a great knife for EDC, ideal for outside activities like camping, hunting or fishing, thanks to the 440a steel the PUMA knife offers high corrosion resistance, plus of this you have a strong, sharp blade.
The knife comes with a handle made from extremely durable ABS, but what I really like in the Sergeant Pocket knife, is the premium design with the high-quality premium lock back, in all its perfect folders for cutlery and outside activities.
2. KnifeStyle Japanese Kitchen Folding Pocket Knife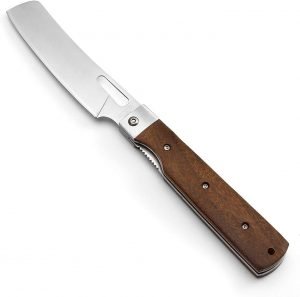 If you're a camper and you're looking for a pocket knife that will cut through your vegetables and meat without worrying about corrosion KnifeStyle made a knife just for you, this knife is specially made for outdoor cooking, it has a 5″ blade, with a wooden handle that has some AISI 420 stainless steel.
440a Stainless Steel Equivalent
In this section, we're going to compare our steel with other steels, and for this, I use four criteria; Edge Retention, Corrosion resistance, Ease of Sharpness, and Toughness, and I use a scale or note from 1 to 10.
| | 440A | 420HC |
| --- | --- | --- |
| EDGE RETENTION | 1/10 | 2/10 |
| EASE OF SHARPNESS | 9/10 | 7/10 |
| CORROSION RESISTANCE | 6/10 | 6/10 |
| TOUGHNESS | 6/10 | 6/10 |
As you can see both the 440A and the 420HC are very close.
| | 440A | 440C |
| --- | --- | --- |
| EDGE RETENTION | 1/10 | 2.5/10 |
| EASE OF SHARPNESS | 9/10 | 7/10 |
| CORROSION RESISTANCE | 6/10 | 7/10 |
| TOUGHNESS | 6/10 | 5/10 |
The 400 series or family are very close in with little difference in edge retention, as you can see, the 440C is a bit more superior.
Quick reminder, this conclusion is a personal opinion about the 440a Steel Knife If you disagree with me, please let me know on the comments, It doesn't bother me to discuss knives!
In all the 440a it's a great steel for your knife, compared to its price, it offers some great qualities for an everyday use knife, but It needs to be taken care of, "Good news: It's easy to sharpen." So if you're a simple user, and you need a friendly knife, you can consider 440a steel knife.