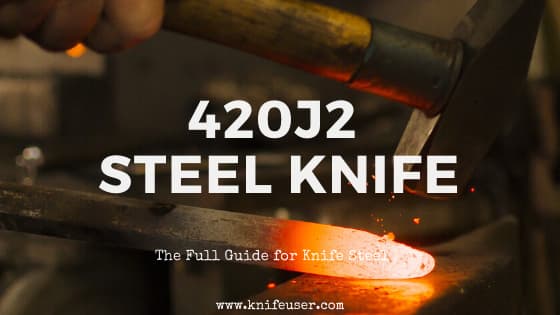 If you're looking for some very low priced knives, you probably saw some 420j2 Steels, and you wonder what makes this steel so cheap? And is it good or should I add more 5 dollars and get a 420hc or 440a steel?, well I was in the same situation, and I wanted to know more about it. Therefore I decide to make a 420J2 Steel Review.
So if you're reading this, it means you're looking for more info about this steel, keep reading! I took hours of researches and gathered all the information's, and answered some common questions (like "What is it?" "What is its chemical composition?" "What is its hardness?" "How hard is it?" "Is it good or not?" and other questions) in this blog post, so let's dive in.
420j2 is a low-end (can be the lowest) stainless steel high in Chromium, it's very known for its high corrosion resistance, used in Budget knives and diving knives, surgical Instruments, daggers, swords, and scissors.
As you can see, the chemical composition of the 420J2 is a mixture of high Chromium, which makes it stainless steel with high corrosion resistance.
420J2 Steel hardness (Rockwell Hardness)
The maximum hardness of the 420J2  steel is 56 HRC.
If you wish to know more about the terms "HRC" or "Rockwell Hardness", read this blog post.
According to the chemical composition and the HRC of the steel, the AEB L Steel has the following features:
420J2 Edge Retention: 420J2 isn't the best in edge retention, it has a low to 0 carbon in it, which makes not so hard and low edge retention.
420J2 Corrosion Resistance: With more than 14% of Chromium, 420J2 will offer you a great Corrosion Resistance.
420J2 Wear Resistance: Not so great in wear resistance, it has a decent one for low-end steel.
420J2 Sharpness: The rule says the harder the steel, the harder to sharpen it, our 420J2 has a decent hardness, so sharpening it would be an easy task.
420J2 Toughness: very great in toughness, it has good impact resistance, the steel is more focused on toughness and corrosion resistance.
420J2 is close to Chinese steel 3Cr13. They are quite similar in their chemical composition, they both offer great toughness and corrosion resistance, but they 're low in hardness and wear resistance, and they fall in the same price range.
Is 420J2 steel good for Knives?
It's not so great for knives, but it's very cheap, you get what you pay for, one of the must-have in a knife, is edge retention (for me). Edge retention is a game-changer in all types of knives (survival, hunter, kitchen, fishing etc…). Unfortunately, the 420J2 offers a weak one, but on the other hand, it's very tough and has great corrosion resistance, so if you're not bothered with sharpening your knife and you're in a limited budget, 420J2 would be a great choice for you.
Columbia River CRKT 5102N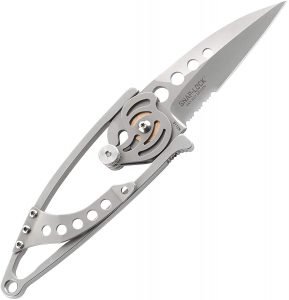 Ever felt like owning something out of the ordinary? Something that's going to make your friends go WOOOW! Well, CRKT made your dream come true, with the Columbia River, you have a bit special folding knife, thanks to its the opener that goes out for normal it makes the blade turn 180 degrees until it locks into place, plus with this, you have an innovative snap-lock mechanism. The knife comes with a 2.5" 420j2 stainless steel drop point blade, the handle is also made from the 420j2 steel. All in all, it's a great EDC knife, with a great looking design, that would be awesome to have one (to show off haha).
There is no such thing as "bad steel", it all depends on your usage and your budget. The 420J2 is a low-end stainless steel that might come handy as a survival knife, tactical knife or hunting knife, where toughness and corrosion resistance is needed. But if your usage is oriented to hardness and wear resistance, I recommend you to add more dollars and go for the 440A steel, and let's be real if you can afford 10-20 USD you definitely can afford 20-30 USD.
This conclusion was a bit of my personal opinion, therefore if you wish to share another opinion, please feel free to leave a comment below.