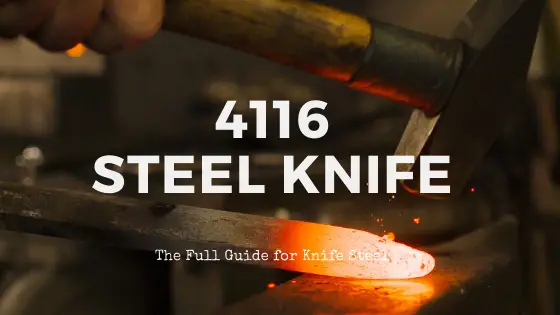 Did you ever notice a 4116 stainless steel in a knife? Or heard about the Cold steel knives made from the 4116 steel? If Yes, so do I, but honestly, I had no idea about it, this is why I decided to write this blog post, gathering all the pieces of information about the 4116 steel knife.
If you are wondering, what is 4116 steel? What it's chemical composition? What it's hardness? Is it good for knives?. You 're in the Right place I'll try to answer all this question and more, enjoy the read.
It's a low-end high carbon martensitic stainless steel, made by the German company Thyssen- Krupp, it's very known in the knife industry, especially for in the Pharmaceutical knives and kitchen knives.
4116 Stainless Steel Chemical composition
As you can see, it has 15% of chromium, which makes it stainless steel, and 0.55% of carbon and a bit of  Vanadium for hardness.
What is the hardness(HRC) of 4116 stainless steel
The hardness of the 4116 steel is 56 RC, according to steelselector 
Quick Break if you aren't familiar with the terms HRC or Rockwell hardness, You need to read this blog post first!
What are the 4116 Stainless steel properties
According to the chemical composition and the HRC of the 4116 stainless steel, we can reach these properties.
Edge Retention: with a 56 HRC, the 4116 steel knife has good edge retention, not the best, but compared to low-end steel knives it's perfect.
Corrosion Resistance: 15% of Chromium is great evidence of high corrosion resistance, being a stainless steel grants an excellent corrosion resistance to the knife.
Wear Resistance: 0.54% of carbon grants the 4116 stainless steel a decent wear resistance but not the best.
Sharpness: An HRC of 56, it's easy to sharpen for sure(as long if it's not superior to 60). The harder the steel, the harder to grind or sharpen it.
Machinability: 4116 stainless steel is composed of Molybdenum and Sulfur; they both offer great machinability for the steel.
Toughness: 4116 stainless steel is considered tough steel, due to the Chromium in it, and a bit of Phosphorus. That's why it is regarded as one of the toughest low-end steel knives.
Is 4116 stainless steel Good for knives?
Being low-end steel, I find it very great steel for a budget knife. It has a great corrosion resistance, which is great for tools used in a humid environment, like kitchen knives or diving knives, it has good edge retention (the best one in the low-end steels according to my teste), great hardness (HRC of 56), and great toughness.
So the answer is Yes, it's a good steel for knives, and it's very affordable(you get a little bit more for what you paid for).
Best 4116 Knives- My top 2
1. Cold Steel Peace Maker II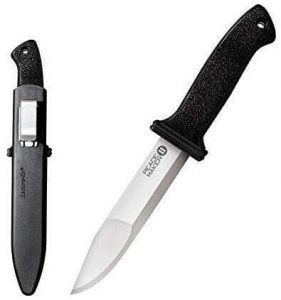 I really love this knife from Cold Stel, it's a 4116 Stainless steel, with a 5-1/2" blade, it can be carried discreetly, how ? clipped to your boot and covered by your pants! It has a scandi ground which is great to resharpen. It's an excellent tool for hunting, fishing, camping and all outdoor activities that include sharpness and corrosion resistance.
2. KA-BAR 2-1232-1 Hunter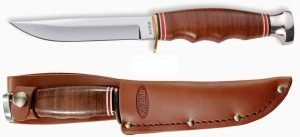 This KA-Bar knife is one of my choices in the 4116 steel, if you're a hunter, camper or exercise outdoor activities that require you a knife, and you're looking for a 4116 knife steel, the KA-BAR 2-1232-1 is your choice, I still can't understand why did KA-BAR name it after a number code (it might be related to some military codes, if you know the answer, please share with us in the comments), let's go back to the knife: as you can see, it's beautifully designed with a good looking sheath with a 4" blade.
4116 Stainless Steel Equivalent
According to the chemical component and the hardness, The 4116 steel is close to the 400 series. It's slightly better than the 420 and the 440 in edge retention, and they're all very knowledgeable in the kitchen knife industry, thanks to there excellent corrosion resistance and their affordable price.
I have researched a great amount for the 4116 steel, and what I liked, is I always end up reading reviews having the same opinion as mine, which is the 4116 stainless steel is an excellent steel for its range. It has what it needs for low-end steel considering the following aspects; Cheap, tough, hard, edge retention, wear-resistance, and corrosion resistance.
Before finishing our review, I wanted to mention that some of the users aren't happy about their steel knife claiming that Thyssen- Krupp moved their manufacturing to China, and the quality of the steel has decreased. I have no proof or evidence of this, but if anyone experienced this please share with us in the comment below.