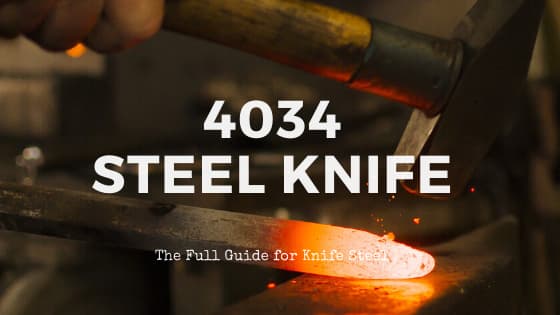 Today we're going to discuss or review europian steel called the 4034 steel, why did I choose to study this steel, simply because I was interested in it, and I couldn't find enough information about it.
So if you are in the same position as me, looking for more details about the 4034 steel, you're in the right place, I m going to try to answer all the questions you're looking for( What is the 4034 steel? what is its chemical composition? What is the hardness of the 4034 steel? What is the equivalent steel for the 4034? Is it suitable for knives?)
The 4034 is low-end europian steel(Alloy) made by the Krupp Steel. It's high carbon steel it can be classified as steel, it can be used for kitchen knives and diving blades.
4034 steel Chemical Composition
0.5% of Carbon: It improves hardness and wear/corrosion resistance, but a high amount of it decreases strength.
14% of Chromium: For tensile strength and Edge retention, and enhances corrosion resistance and wear resistance.
0.1% of Manganese: Increases hardness and brittleness.
It has more than 12% of Chromium, which make it stainless steel.
What is the hardness(HRC) of 4034 stainless steel
What are the 4034 Stainless steel properties
According to the chemical composition and the HRC of the steel, the 425M has the following features:
Edge Retention: with a maximum HRC of 54, it means that it hasn't a great edge retention
Corrosion Resistance: the 4034 steel has a 14%  of chromium, which gives the steel a great corrosion resistance.
Wear Resistance: 0.5% of carbon grants the 4034 stainless steel a decent wear resistance but it's not good enough.
Sharpness: it's low-end steel with a 54 HRC, its definitely easy to sharpen.
Toughness: 4034 steel lacks many materials that contribute to toughness, like Nikel. Therefore it has a decent toughness due to the Chromium in it.
Is 4034 stainless steel Good for knives?
In my opinion, the 4034 steel is low low-end steel for knives. I may consider it one of the worst steels for your knife, expect the corrosion resistance it has low edge retention, quiet strength, and compared to its price you can find better steel at the same price with better properties.
You may be saying, "Oh, Knife User! It's a low-end steel knife, it's not supposed to have those qualities you're looking for", well you're right, but compared to another low-end steel knife, I think the 4034 steel is just Incomplete, it barely has the 0.5% Carbon, and it lacks other materiels that's I believe fundamental in the knife making.
1. Smith & Wesson SWMP4LS

The Smith & Wesson make great knives with the 4034 high carbon stainless steel. I won't lie, they did make good use of their steel! My favourite is the SWMP4LS, it's an assisted folding knife with a Serrated clip point blade, comes with an Aluminum hander, great survival knife, perfect for outdoor activities, it has a sharp 3.6″ blade, a liner lock and a safety lock for security, and to prove that the knife is just great for all situations, it has an ambidextrous thumb plate and a glass breaker, all of this for a decent price. Well, what can I say "Smith and Wesson" you did some good job making this knife.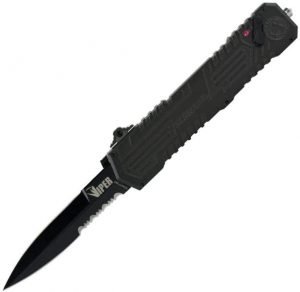 Viper 3 from Shrade is a little beast made with the 4034 high carbon stainless steel, it has a 3.5″ double edge spear point blade, an Aluminum handle, with an assisted opening system and a lock finger for safety, it comes with a glass breaker and pocket clip to attach it on your belt or other things as needed, I find the VIPER 3 a great choice if you're looking for a high carbon OTF knife.
3. Boker 120547 Bowie Boot Knife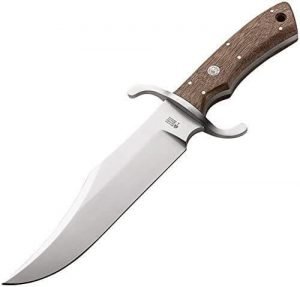 This choice is for the collector, the old Bocker lovers, this knife is expensive. Still, there is a reason for it, Bocker no longer makes knives in the European land, they took their manufacture to China. However, the Bocker Bowie Knife is still made in Europe from blade to sheath, which offers more quality for the knife, I'm not saying that The Chinese knifemakers are bad. Again, I'll always prefer the tough of a german knifemaker over a Chinese, they have an old history in steel that would definitely make a difference in the making of a knife, so let's go back to the blade, It's beautiful bowie made from the 4034 high carbon stainless steel with beautiful wester style leather sheath, and yes it's expensive, but real Boker fanboys would always feel the needs to own it!.
4034 Stainless Steel Equivalent
In all the 4034 steel is decent steel (not so great in my opinion), it has a great corrosion resistance and decent strength/edge retention, therefore if you're aiming to use it for your knife, I honestly don't recommend it, If you have another opinion, please feel free and leave it in the comments, I would like to discuss more about it.