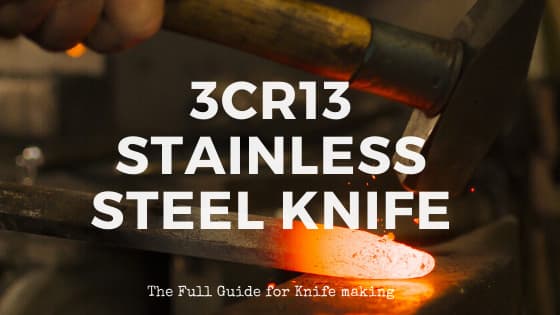 Being a knife user, I'm sure you stumbled upon one of the "3cr13 Stainless steel knives", and you wondered what this steel is? How good is it? Which type of usage suits best this knife? How long has it been around? Who made it? And where did it come from?
 Well, I had the same questions, and today I'm going to answer them for you.
What is 3cr13 stainless steel?
It's a Low-end Chinese Martensitic stainless steel, used today in the knife industry, it has high corrosion resistance and wear resistance, it's known to be a "good for the price" stainless steel.
It's prevalent in the United States, especially for knife makers, its cheap and good quality, and allows making affordable and durable knives.
3cr13 Chemical Composition
The stainless steel is usually  composed of 12% or more of Chromium, and that's is the case of our 3cr13 stainless steel, it has:
How strong is 

3cr13 steel? 3cr13 Rockwell Hardness

"Quick stop, if you don't know the meaning of HRC or Rockwell Hardness, check out this Post first!"
The Rock Well Hardness of the 3cr13 Stainless steel is 54 HRC (It may vary from 52-55, depends on the steelmaker).
What are the 3cr13 stainless steel properties
Edge Retention: A good Edge Retention, Not a great one, but for low-end steel, it is perfect.
Corrosion Resistance: It has great corrosion resistance, which is excellent for humid places. If you're a diver, a 3cr13 knife steel would be a great choice at an affordable price.
Sharpness: One of the high quality of the 3cr13 is being extremely easy to sharpen, and we all know how great that is, especially if you're camping or on an outdoor experience, a quick knife sharpening using a rock sharpener is always better than a long one.
Hardness: The 3cr13 is hard steel despite being low-end steel, that what made it famous in the knife industry, it has a great effect on machinability.
Machinability: The 3cr13 is an excellent steel for machinability, it correlates with its hardness. The steel offers high hardness and damage resistance, which is very great for knife makers.
Toughness: the 3cr13 is a robust knife, we saw earlier in the chemical composition, the presence of the Nickel, Manganese and the Silicon, those materials enhance the toughness of steel, making the 3cr13 a very tough knife.
Is the 3cr13 Stainless Steel good for knives?
I guess we already answered that, and yes it's perfect for knives, as we saw, it has great hardness, good edge retention, high wear, and corrosion resistance, and it's extremely easy to sharpen plus it's very affordable.
All in all, it's a great steel for low-end knives, and that explains why the 3cr13 gained so much presence in the knife market. It simply has what it needs to be there.
3cr13 Stainless Steel Equivalent
According to the chemical composition, the 3cr13 is close to the 420j2. It has the same properties, and their quality/price are at the same levels.
You can find similar properties in the 1cr13 and the 2cr13, but the 3cr13 is harder and has more strength.
Some awesome 3CR13 Knives in the Market
1. TAC-FORCE TF606WS Engraved Tactical Pocket Knife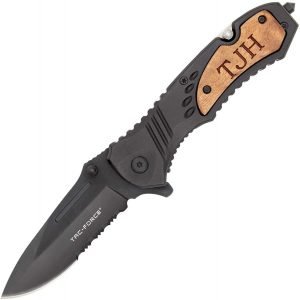 This is a great knife made from the 3cr13 Steel and the cool part about it is it's very cheap, and the company offers a personalized laser printing name on the wooden part of the knife, which is great for gifts. Also, it has a 3.25" blade, a rope cutter, can opener, glass breaker and a belt/pocket clip. For a low-end knife with all these features, that's a pretty good deal.
2. KUMA Multi-Purpose Chef Knife (Set of 3)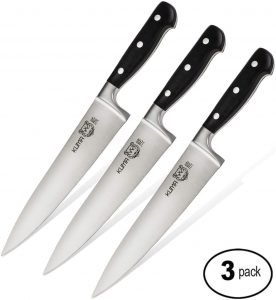 My second choice are these chef knives. They come in the 3CR13 Stainless steel in a set of three blades, with a great cutting edge and good sharpness. They would be a great choice for cutting your vegetables and meat. The KUMA has a Japanese style with a smooth ergonomic handle, so they offer both control and comfort.
And since they're made from the 3cr13, they're Stainless and can hold an edge for a good time. So if you're low in budget and you wish to own a decent good chef knife set, the Kuma set is an excellent choice for you.
The Chinese stainless steel has gained so much presence in the United States Market, especially the 3Cr13 due to its excellent hardness and toughness, and it's cheap! This is what inspired the knife makers to craft tremendous and affordable knives.