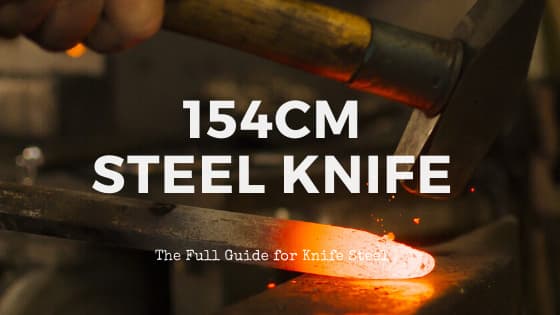 154cm steel is very famous for being high-end steel for decades, So if you're a Knifemaker or a Knifeuser, I'm sure you already heard of it. So the big question would be "Is 154CM a good knife steel ?", well the answer is obviously Yes, the question now is Why? You'll find the answer detailed in this blog post.
Therefore if you're reading this, it means you wish to know more about the 154Cm steel, luckily I was in the same position as you, and I did some researches, and I tried to answer some common questions (What is it? What is its chemical composition? What is its hardness? How hard is it? Is it good or no? and other questions) you'll find it all in this blog post.
154cm is high-end stainless steel Developed by Crucible in 1970 for jet engine turbine components,  it offers high hardness and wear resistance and enhance corrosion resistance, today it's used for many types of knives; cutlery, small folders, hunting knives, filet knives, and heavy-duty knives.
As you can see, our 154cm has more than 12% of Chromium Which makes stainless steel, with a high portion of carbon and Molybdenum.
No knife steel is 100% immune to rust, but the 154cm will not rust for years, it's stainless steel with high Chromium, which enhance corrosion resistance.
154cm Hardness or Rockwell Hardness
According to Crucible Chart, 154cm Rockwell hardness is 60-61 HRC.
If you want to know more about the terms "Rockwell Hardness" or "HRC" you can this blog post about it.
According to the chemical composition and the HRC of the steel, the 154CM Steel has the following features:
Edge Retention: The combination of Chromium, Carbon, and Manganese makes the alloys very hard, with a 61HRC, the 154CM offers a great Edge Retention.
Corrosion Resistance: With 14% of Chromium, 154cm offer great Corrosion Resistance.
Wear Resistance: 154cm steel is a very hard steel with great wear resistance; it can handle the beating and its very "Impact Resistant."
Sharpness: Even being hard steel, the 154CM is easy to sharpen compared to other high-end Steel.
Machinability:   The 154cm is a bit harder to Machine due to its high carbide volume.
Toughness: It has pretty good toughness; it's very balanced compared to the Corrosion Resistance and hardness offered by the steel (In general, you get only two of the tree; hardness, Corrosion Resistance, Toughness).
Is 154CM steel good for knives?
So after checking all the properties of the 154CM, the right answer would be Yes, it's a good steel for knives, it has a great wear resistance, good hardness and toughness, and high corrosion resistance, it may be one of the best steel for knives, it's not a high-end steel for nothing. Therefore many knife manufacturers are using it for all types of knives. It can be used for EDC knives, hunting knives, fishing knives, diving knives, and even kitchen knives.
1. Benchmade - Mini Barrage 585

This Knife is my second favourite after the Ontario Black Bird, but it has to be the first the first in my list, why because it's a beautiful beast, in fact, Benchmade designs are always happy to see, this knife group between strength and beauty, first let's talk about the blade, it has a 2.91 drop point blade that will keep its sharpness for long and has great corrosion resistance, now let's talk about the best part, the ergonomic of the Knife, I love it! It has comfortable Handle, it small, lightweight opens smooth and fast thanks to its AXIS Assist Mechanism, and on, top of that a reversible pocket clip that can be removable, this the Knife you need if you're looking for smoothness, strength, and beautiful design.
2. Ontario Black Bird SK-5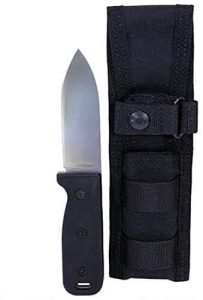 This Knife is the definition of "Simplicity overcomes everything", this beast is simple, really strong, and ready to cut! It has a 5″ plain edge drop point blade, with a flat grind and Mirror finish, a fixed lock and strong G10 Handle that makes the Knife very ergonomic, this Knife will hold an edge forever, very strong and has a high corrosion resistance thanks to the 154CM, In all this Knife is a durable, dependable, easily handled, maintenance-free, wickedly sharp tool that will competently performs any bushcrafting chore you throw at it.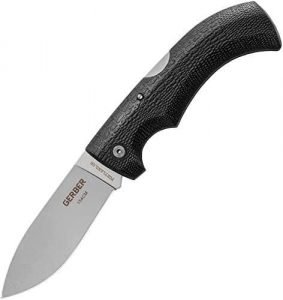 This the Knife that offers the strength, hardness and high corrosion resistance you're looking for in the 154CM steel, for a reasonable price, it comes with 3.6″ drop point blade, it has a fat, grippy handle and comes with a Nylon sheath, It's great for camping, hunting, fishing, or as a crafts/utility knife. It is a good paring knife, for ergonomic it's not very great, since it' a large knife, it needs two hands to open the blade, so it won't be great for self-defence or fast demanding situations, but as I already said Gerber made this blade to be as cheap as possible to offers us the high quality of the 154CM steel, so if you're on a low budget and you're searching for a high-end steel knife, here you go, you just found one.
154cm steel equivalent or Alternative
The qualities offered by the 154cm are close to the CPM S30V, they both offer the balance of hardness, toughness, wear resistance, and corrosion resistance, they the same of course, I find the S30V slightly better in Edge retention and hardness, and the 154CM is easier to sharpen compared to the S30V, but in the end, they 're both high-end steel or (Super Steel).
In this section, we're going to compare our steel with other steels, and for this, I use four criteria; Edge Retention, Corrosion resistance, Ease of Sharpness, and Toughness, and I use a scale or note from 1 to 10.
| | 154CM | 440C |
| --- | --- | --- |
| EDGE RETENTION | 4/10 | 2.5/10 |
| EASE OF SHARPNESS | 5/10 | 7/10 |
| CORROSION RESISTANCE | 6/10 | 7/10 |
| TOUGHNESS | 5/10 | 5/10 |
440C offers lower edge retention compared to the 154CM.
| | 154CM | CPM 154 |
| --- | --- | --- |
| EDGE RETENTION | 4/10 | 6/10 |
| EASE OF SHARPNESS | 5/10 | 5/10 |
| CORROSION RESISTANCE | 6/10 | 5/10 |
| TOUGHNESS | 5/10 | 4/10 |
CPM 154 and 154CM are not the same steel! Even if they have close performance.
| | 154CM | S30V |
| --- | --- | --- |
| EDGE RETENTION | 4/10 | 5/10 |
| EASE OF SHARPNESS | 5/10 | 5/10 |
| CORROSION RESISTANCE | 6/10 | 7/10 |
| TOUGHNESS | 5/10 | 6/10 |
S30V offers slightly better performance in edge retention, toughness and corrosion resistance compared to 154CM.
| | 154CM | VG10 |
| --- | --- | --- |
| EDGE RETENTION | 4/10 | 5/10 |
| EASE OF SHARPNESS | 5/10 | 6/10 |
| CORROSION RESISTANCE | 6/10 | 7/10 |
| TOUGHNESS | 5/10 | 4/10 |
VG10 offers slightly better edge retention and corrosion resistance with a lower toughness compared to 154CM.
| | 154CM | 1095 |
| --- | --- | --- |
| EDGE RETENTION | 4/10 | 3/10 |
| EASE OF SHARPNESS | 5/10 | 7/10 |
| CORROSION RESISTANCE | 6/10 | 3/10 |
| TOUGHNESS | 5/10 | 8/10 |
1095 offers higher toughness, low edge retention and lower corrosion resistance compared to 154CM.
| | 154CM | D2 |
| --- | --- | --- |
| EDGE RETENTION | 4/10 | 3.5/10 |
| EASE OF SHARPNESS | 5/10 | 4/10 |
| CORROSION RESISTANCE | 6/10 | 4/10 |
| TOUGHNESS | 5/10 | 6/10 |
D2 offers very close performance with slight differences compared to 154cm.
All in all, the 154Cm is great steel for your knife, it offers the balance between hardness, ease of sharpness, wear resistance, edge retention, and corrosion resistance, therefore if you intend to buy or even make a 154CM Knife steel,    I'll be gladly recommending you to do it, but if you're in a limited choice and you're looking for the "Best," I may invite you to go for the CPM S35V or CPM S30V, they both offer "the new Technology," it's more developed than the 154CM. I'm not saying that the 154cM is a bad choice, all I'm saying that the market has moved towards new technology, and it affects our choice.
As always, if you wish to add more information or to share your opinion about the 154Cm, please leave me a comment below, I'll be happy to discuss knives.