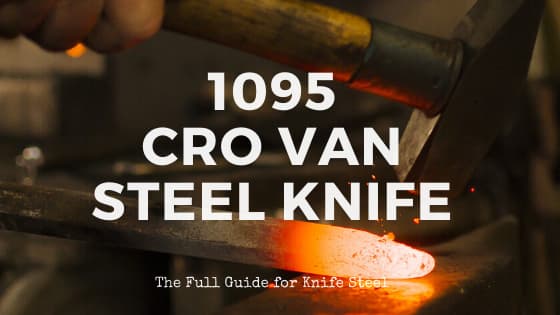 As a knife user or a knifemaker, I'm sure you already heard of the 1095 CRO VAN steel, don't confuse it with 1095. They're not the same, but let say that 1095 is 1095 CRO VAN's father (You can use some star wars jokes here).
So if you're reading this, it means you would wish more information about the 1095 Cro Van, you're in the right place, I was in the same position as you, and did enough research about it, and  I answered some common questions (like What is it? What is its chemical composition? What is its hardness? How hard is it? Is it good… and many others).
What is the 1095 CRO van?
1095 CRO Van or (Sharon Steel 50110B/Sharon Steel Carbon V/Sharon Steel 0170-6/Sharon Steel 1095CV/ Sharon Steel 50100B) yes it has many aliases, its carbon steel based on the 1095 steel with higher Vanadium, Chromium, Nickel, and Molybdenum.
1095 Cro Van Chemical Composition :
As you can see the 1095 CO VAN steel, has the same base chemical composition of the 1095 steel, with the addition of Chromium, Vanadium, Nitrogen, and Molybdenum.
1095 cro-van steel hardness
The hardness of the 1095 Cro-Van steel is between 56-60 Hrc.
If you wish to know more about the "Rockwell hardness test" or "HRC." Read this following Blog Post.
Yes, it does. The 1095 steel has a low amount of Chromium (only 0.6%), which makes it prone corrosion, therefore if you're using it in a knife, don"t forget to take good care of it so that you can avoid future rust.
What are the 1095 CRO VAN steel properties
According to its chemical composition and Hardness, 1095 Cro Van steel offers the following properties:
Edge Retention: the steel is composed of Chromium, Manganese, Vanadium, and Carbon, which makes it very hard steel with great edge retention.
Corrosion Resistance: The steel is prone to corrosion; it has a low amount of Chromium, which make it very exposed to rust.
Wear Resistance: the 1095 CRO VAN offers a great wear resistance thanks to the combination of  Vanadium, Chromium, And Carbon in it.
Sharpness: It's easy to sharpen it, despite being hard steel, sharpening it would be an easy experience.
Toughness:  it's tough steel, but it follows the rule of hardness and toughness, you can reach a hardness of 60Hrc with the 1095 Cro van, but it will be at the cost of toughness.
Is 1095 CRO Van steel good for knives?
Yes, and No, it depends on what usage you wish for your 1095 Cro van knife, it has a great edge retention, wear resistance, hardness, and toughness so that it would be good for EDC knives, with some "hard" usage, but if you intend to use it in wet environment like in fishing or hunting, and you wish for durability, the 1095 Cro van can't afford that, it has a low corrosion resistance, and you'll find yourself with a rusty knife. So I wouldn't recommend it, and you can find better steel that can afford the same qualities for you or even better.
Ka-Bar BK7 Becker Combat Utility Knife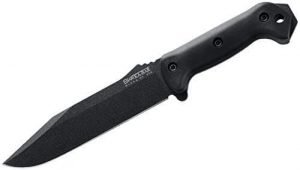 If you're looking for a strong knife yet lightweight, look no more, the KA-BAR BK7 Is your choice, this knife was designed for outdoor activities like camping and hunting, it has a sharp 7" clip point blade, comes with a Zittel handle that will offer you comfort and great grip, in top of this the knife offers a great balance between toughness and effectiveness, this beast will cut woods, start a fire, cut cords and more for you, and it flat grind secure an easy sharpening, but let me remind you it's you can't get hardness and toughness together with high corrosion resistance, so if you're intending to use it in wet envirenemnt be prepared (some oil or Vaseline knife) and take good care of your knife!.
1095 Cro Van steel is low-end steel. It's very great for knives. It offers great edge retention, hardness, toughness, wear resistance, and very affordable,  therefore if you intend to use it in a wet condition I wouldn't recommend it, it's carbon steel with low chromium AKA low corrosion resistance, so you' ill need to oil it and sharpen it, to keep it in shape and avoid rust. As for knife making, I can consider this steel a good choice for beginners, but still, I recommend to go for the 1095 steel it's way easier to handle.