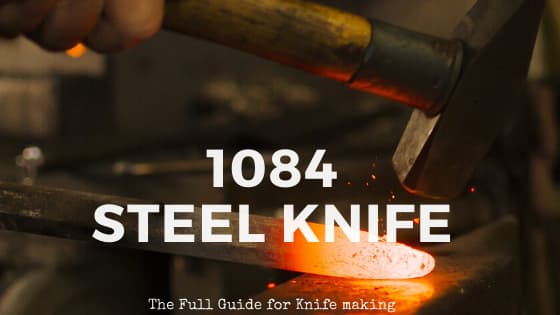 If you're a knife maker, or you love having custom knives, I m sure you did hear about the 1084 Steel, "The Beginners Steel," every knifemaker (beginner or pro) has come across the 1084 Steel, and If you are here it means you're searching for more pieces of information about it.
 Since I was in the same position as yours, I did the research (What is it? what is the chemical composition? what are the 1084 steel properties? is it good for a knives? what are the equivalent of the 1084 steel?) and I gathered all the info for you in this single post.
What is the 1084 Steel, and what is 1084 steel used for?
The 1084 Steel is a high carbon alloy, great for knife makers, it is advised for beginners, on of the most accessible steels for the heat process and it requires less soak time in heat.
So if you're a fan of knives and you desire to make your knife, 1084 is your steel, it's not a complex steel so that you can make it at home, with some necessary, proper materials. 
1084 has low wear resistance and decent shock resistance, so if you make a knife of it, don't forget to take care of it and oil it.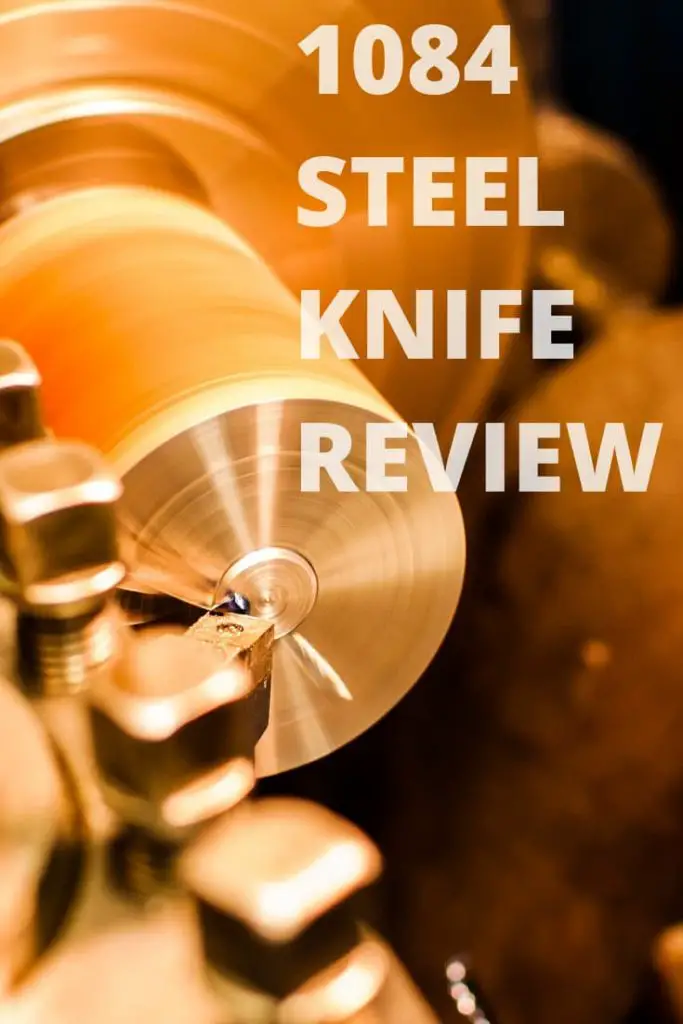 1084 Steel Chemical Composition
If you noticed, there is no Chromium in this alloy, so automatically, its wear resistance will be low, neither Molybdenum or Nickel for toughness.
What is the hardness(HRC) of 1084 steel ?
According to the industrial standard hardening test, the
Rock well hardness of 1084 is 50HRC at 650(F) Heating temperature and 65Hrc at
300(f).
Hey, if you're a new knife user, and you don't know about
the "Rock well hardness" check this post, it will help you!
What are the 1084 steel properties ?
Edge Retention: the 1084 steel is a hard steel that goes to 60HRC, which is great for edge retention.
Corrosion Resistance: as we already saw in the chemical composition, there no Chromium in the alloy, which means a low corrosion resistance.
Wear Resistance: the 1084 steel is hard steel, it can handle damage, and have great wear resistance.
Sharpness: Bein hard steel, 1084 will be a hard one to sharpen.
Machinability: I m not an expert in this field, but according to my research, it is great for machinability, If you're a machine user/Maker and you already use 1084, please share with us your knowledge and experience in the comments.
Toughness: According to the law of hardness and toughness, the harder steel, the lower its toughness, which means 1084 has decent toughness.
Is 1084 steel good for knives?
Honestly, there better steels out there for your knife, but in all Its good for knives, if you're looking to get a knife with high edge retention and hardness, you can get it with the 1084 steel, it has an HRC of 60 (Same as the high-end steel knives), it's very great for wear resistance, and it's affordable.
 But let's not forget its has 0 Chromium in it, so you must take care of it and oil it, to avoid corrosion of the knife in the future.
I can say that all simple carbon steel without chromium, can fit perfectly as a 1084 steel equivalent, I couldn't find a common one, there're some rarely used steels like "Uns g10840" (and yes I didn't know it existed until I searched), that have the same chemical composition of the 1084 steel.
1084 is a great steel for knives, but it's not the best, especially if you're a Chef or Diver you work in a humid environment, 1084 won't give the right corrosion resistance you need. 
In same time if you search in every forum, one thing is for sure, it's an excellent steel for new/beginners knife makers, its easy to handle and takes less time in the soaking process, and if you can't afford knives with high hardness like the M390 knife steel, you can reach a close level of hardness thanks to the 1084 steel for a lower price.